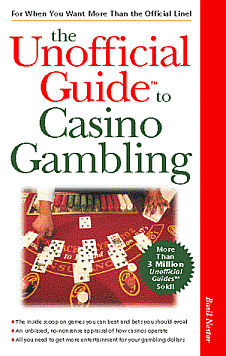 It's simple. You want to win more, and the Unofficial Guide to Casino Gambling can help you do that.
We're not talking pie-in-the-sky theories or optimistic betting systems. These are mathematically rock-solid strategies that give you MORE opportunities to win. And they're easy to understand. You donít need to be a math wizard to use this information, though any mathematician (or professional gambler) will tell you this is the ONLY WAY to improve your chances.
Here's how it works. EVERY contest has an optimal strategy. That includes slots, video poker, blackjack, craps, roulette, baccarat, keno, Caribbean Stud Poker, Let It Ride, hold 'em, seven-card stud, pai gow poker, sports betting... The key to winning is learning the strategy and using it.
Can you win every bet? No. But you WILL win more over time. Itís mathematically inevitable. Even if you gamble for only a few hours, this book can save you money. Youíll play longer, earn more comps, and have more fun!
Read More About
The Unofficial Guide to Casino Gambling
Click the icon to order via secure server and save!

(c) copyright 1999-2008 Basil Nestor
Any reprint or repost of material from this web site requires prior written approval.
Questions? Contact webmaster @ smarterbet.com