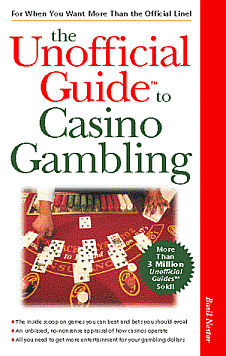 Q How is this book different from other books about gambling?
A Well for one thing, itís published by a major literary house. Wiley Publishing has a long history of publishing important work. The Unofficial Guide to Casino Gambling is thoroughly researched, and it includes PROVEN strategies for winning. No pie-in-the-sky theories. No scam systems. These are REAL strategies. They work in real life.
Q Is the book easy to understand? Or is it filled with confusing formulas?
A The strategies are easy to understand and easy to follow. You donít have to be a math wizard to get the full advantage. For most games itís as simple as avoiding one kind of bet (or betting situation) and favoring another.
Q Can I find this information in other books?
A There ARE other gambling books that offer sound strategies, but most have a narrow focus (one game). Good books about gambling can be hard to find because they're often surrounded by not-so-good publications that are filled with scam strategies and misinformation. The Unofficial Guide to Casino Gambling reliably cuts through all of that. You get ALL the games, minus the hype, from a well-known publisher you can trust. PLUS you get a comprehensive behind-the-scenes look into the casino world. We donít just explain the games and strategies. We give you important information about comps, markers, casino security, venues (like the Internet, riverboats, cruise ships) and other gambling subjects. You wonít find THAT in a single subject book.
Q Is the Unofficial Guide to Casino Gambling a super-thick tome?
A No. Itís 300 easy-to-read pages (about an inch thick) with lots of illustrations and tables that explain how the strategies work. The margins are filled with interesting and informative sidebars. Youíll have FUN reading this book.
Q Is the Unofficial Guide to Casino Gambling an oversimplified gloss?
A Not at all. Itís comprehensive and detailed. Important subjects like blackjack basic strategy, craps odds bets, and keno way tickets are thoroughly explained. And we do more than just explain. We tell you how to avoid misunderstandings and problems in a casino (like being mistakenly identified as a card counter). It happens more often than you might think.
Q Will this book teach me how to count cards?
A The way we handle the subject of blackjack card counting is an excellent example of what makes the Unofficial Guide to Casino Gambling so special. We tell you the truth. Card counting isnít easy. And itís useless when you donít know basic strategy. So we explain basic strategy first. That alone can cut the casinoís advantage to nearly zero. THEN we cover card counting. Youíll learn which situations are best for counting and when/where itís not profitable.
Q Which games are covered in the book?
A The Unofficial Guide to Casino Gambling covers slots, video poker, blackjack, craps, roulette, poker, baccarat, Let It Ride, Caribbean Stud Poker, pai gow poker, keno, and sports betting. There are also sections about California Blackjack, Spanish 21, War and other casino games. Itís everything you need for a trip to the casino. Check it out now in the SmarterBet.com online bookstore.
(c) copyright 1999-2006 Basil Nestor
Any reprint or repost of material from this web site requires prior written approval.
Questions? Contact webmaster@smarterbet.com