SmarterBet.com Online Bookstore
---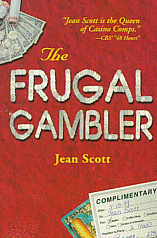 The Frugal Gambler
by Jean Scott
Regular Price $12.95
Click for an Amazon.com discount!

Order via secure server and save!
CBS News called her the "queen of casino comps" and Jean Scott delivers on that title. She's a self-proclaimed low-roller who rarely pays for hotels or meals in Las Vegas. The Frugal Gambler reveals her secrets for wrangling everything from show tickets to manicures, most of it earned from her time spent playing video poker. This entertaining book debunks many of the popular myths associated with casino comps, particularly the idea that they're available only to high-rollers. Most of Scott's comps come from twenty-five cent machines. The Frugal Gambler is essential reading for every frugal gambler.
The Frugal Gambler by Jean Scott

---
Return to the bookstore main page.
(c) copyright 1999-2001 Basil Nestor
Any reprint or repost of material from this web site requires prior written approval.
Questions? Contact webmaster@smarterbet.com