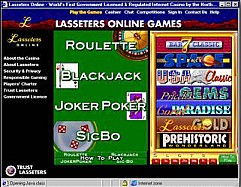 Internet Casinos
by Basil Nestor
---
There is no state in the United States that expressly allows casino gambling on the Internet.
Surprised?
It is definitely illegal in Minnesota, Missouri, Maryland, and Wisconsin. A host of other states including California and Connecticut are considering a ban on the business, and the U.S. Congress may beat them to the punch. Legislation to make Internet betting a federal crime has been floating around Washington for the past few years.
The Justice Department believes that accepting bets via the Internet is ALREADY a federal crime. They have repeatedly closed businesses and arrested operators for violating existing gambling laws.
You wouldnít know any of this by reading the web pages. The online casinos make it so easy; just give them your credit card number and play via modem. Itís all approved and perfectly legitimate... in the Caribbean, Australia, or somewhere else. But not in the United States.
What does that mean for you? There is an important difference between an online casino and the kind you visit in the physical world. Casinos in Las Vegas, Atlantic City and in other U.S. locations are state-regulated and strictly supervised. Theyíre legally certified to be honest. The same CANíT be said for most Internet casinos. A modem linked to a site in the Caribbean could be delivering a game that is honest, or it might be crooked. Without strict regulation, there is no way for a player to know.
Are you already betting on the Internet? Be careful. Individual bettors are not being prosecuted under current law, but donít expect a dispute with an online casino to be resolved by your stateís attorney general.
Want more info on gambling venues and the integrity of the games they offer? Check out the Unofficial Guide to Casino Gambling in the SmarterBet.com online bookstore.
Did You Know?
The first Internet casino was established in 1995. Now there are thousands. Estimates vary, but most experts think the online gambling industry is generating about seven billion dollars of revenue every year, and that figure is growing.
(c) copyright 1999-2006 Basil Nestor
Any reprint or repost of material from this web site requires prior written approval.
Questions? Contact webmaster@smarterbet.com