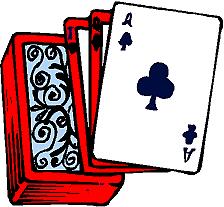 Let It Ride: When Should You
Pull the Bet?
---
Q Let It Ride seems to go in streaks. Is there a way to identify how the cards are running so I can drop out or increase my bet? Is there a way to know when three cards of the same suit or a low pair are more likely to produce a paying hand? Is it better to play at a table that is full, or should I play alone against the dealer? Does one seat/position have an advantage over the others?
A Yes, Let It Ride can be streaky, mostly because an average of three out of four hands are losers. Unfortunately, there is no way to predict when a paying hands will appear. Full table vs. less-than-full table has no affect on the win rate. There is no position at the table that wins more than any other position.
In short, Let It Ride is very much like its poker cousins Texas hold 'em and seven-card stud. There is absolutely NOTHING you can do to increase the probability of receiving a winning hand, but there is PLENTY you can do after you see the first three cards and the hand begins to develop. The key to winning the most money is to correctly value your hand; pull back when a hand is unlikely to win, and bet the maximum amount when the odds are in your favor.
The cards tell you everything, and they're the basis for Let It Ride optimal strategy.
Pull back the first bet UNLESS you have the following:
A pair of tens or better
Three cards to a royal flush
Three consecutive cards to a straight flush except 2-3-4, and ace-2-3
Three cards to an inside straight flush (one gap) with at least one high card
Three cards to an inside straight flush (two gaps) with at least two high cards
Pull back the second bet UNLESS you have the following:
A pair of tens or better
Four cards to a flush, straight flush, or royal flush
Four cards to an outside straight
Four high cards to an inside straight
Keep in mind that the casino's advantage in Let It Ride is 3.5% (the combined value of all the possible losing hands exceeds the combined value of all the possible winning hands). Optimal strategy limits your losses, but it can't make you a long-term winner. Overcoming that last 3.5% requires old-fashioned good luck. Check out Chapter 10 of the Unofficial Guide to Casino Gambling for a detailed analysis of the game and tables that show the probability and frequency of receiving any particular hand.
Basil Nestor
The Unofficial Guide to Casino Gambling
at SmarterBet.com
(c) copyright 1999-2001 Basil Nestor
Any reprint or repost of material from this web site requires prior written approval.
Questions? Contact webmaster@smarterbet.com