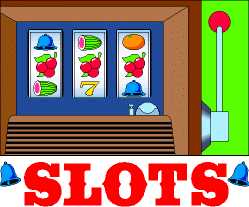 When Should You Play
Maximum Credits?
---
Q Is it better to play the maximum number of credits that a slot machine will accept or play single credits and make my money last for a longer time? Which method gives me a better chance of winning?
A The reels spin the same way regardless of how many credits you wager, but take a closer look at the pay tables on your favorite games. Some machines pay a premium if you smack the top reel combination with a maximum bet. Playing less than maximum credits could cost you a lot of money (perhaps millions) if the reels spin your way.
Here's why...
On March 14, 2001, Kirk Tolman put two coins into a Megabucks slot machine. He pushed the button. The Megabucks symbols lined up and delivered a $10,000 jackpot. Nice, but Tolman missed the top jackpot of $7.9 million because he didnít play a third coin.
Duoh!!!
Sadly, Kirk is not the first player to make this mistake, nor the last. Lesson: If youíre going to play a machine, always go for the top payoff. ALWAYS bet the maximum if the slot is a progressive and/or it pays a premium for maximum credits. For example...
1 credit = 250, 2 credit = 500, 3 credits = 5,000
If ALL the jackpots are only multiplied by the number of credits played, then single credits are preferable.
1 credit = 250, 2 credits = 500, 3 credits = 750
Single credits are best in the latter situations because higher denomination machines tend to be looser than lower denominations. In other words, when playing "standard-multiplier" games (no premium for maximum credits) it's better to play single credits in a dollar machine than multiple coins in a quarter version. This strategy will typically reduce the casino's edge from about 7% down to 5% when playing in Las Vegas, and from about 9% down to 7% when playing in Atlantic City.
That's money in your pocket, and/or more opportunities to hit a large jackpot.
Check out The Smarter Bet Guide to Slots and Video Poker for money-saving slot strategies and ways to identify loose machines without risking a single credit.
Basil Nestor
The Smarter Bet Guides
at SmarterBet.com
(c) copyright 1999-2006 Basil Nestor
Any reprint or repost of material from this web site requires prior written approval.
Questions? Contact webmaster@smarterbet.com