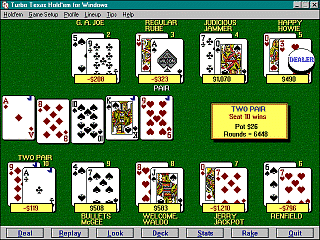 The Best Poker Software
---
Q Can you recommend software to play seven-card stud, hold Ďem, or Omaha poker?
A If youíre serious about poker, the only software that comes close is Wilson Turbo series (Turbo Texas Hold 'Em, Turbo Seven-Card Stud, and Turbo Omaha High-Low). If youíre more of a recreational player, then there are some other products you may want to consider.
Wilson Turbo Series
On the plus side...
Wilsonís artificial intelligence is well developed. The software comes loaded with dozens of cyber-opponents that play at different levels of expertise and with different styles, or you can create your own custom opponents. The program also has ready-made lineups that simulate loose, average, tight and low-limit contests, or you can let the software rotate players through the game (just like at a real casino). Your opponents will attempt to steal pots, bluff, go on tilt, and otherwise almost act like the sharks and yahoos who play at the local card club.
Wilson provides a stunning array of reports that measures your play against the cyber-opponents. My favorite feature is the starting hand analyzer. It records the hole cards for every hand and every player. The analyzer tells you how often each combination won and how much you (or any other player) gained or lost. You can see whose pocket aces hold up, and who is repeatedly going to the river (and losing) with a king and nine.
On the minus side...
Wilsonís strengths are also the source of its weakness. The program is designed primarily for professional and semi-professional players, so itís short on the fun features most people expect in modern computer games. The graphics are decidedly plain (see the screen shot above). The chips are animated... barely... the cards are not.
And here's the kicker (pun intended)... each program costs $89.95. That's right! Ninety big ones for ONLY ONE version of poker!
Ouch! Why so expensive?
Probably because serious poker players are willing to pay the price and do their homework. But goobers who hemorrhage cash at the tables wonít buy Wilson Turbo products because they "cost too much." And thatís exactly how the pros like it.
The Best/Worst of the Rest
Masque World Series of Poker
Masque World Series of Poker combines poker with other casino games in an experience that simulates playing at Binionís Horseshoe in Las Vegas during the World Series of Poker. Entering and winning the fabled tournament is the focus of the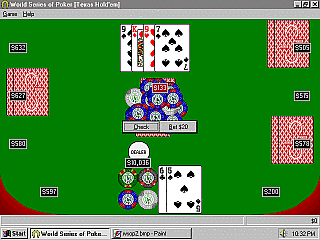 game, so you only get $5,000 of the $10,000 entry fee. You must win the rest at regular poker tables, at other games somewhere else in the casino, or in a satellite tournament.
WSP is more of an computer adventure than a straight poker simulation, and it offers none of the statistical or custom options available in Wilsonís Turbo products. But WSP is certainly the most "fun" of all the simulations. The animation, sound effects, banter at the table, and even the dealerís comments really give you the feeling of being in a casino poker room. The opponents are tough, and you CANíT adjust or program them. Thatís the way it is in real life.
One nice feature is that WSP has a "bookstore" in its cyber-casino. You can use your bankroll to "purchase" books by poker legends like David Sklansky, Mason Malmuth, and Doyle Brunson. The cyber-books have excerpts from the real-life tomes. You can also attend a Mike Caro lecture at Binionís. Itís a nice added touch.
I bought Masque World Series of Poker for $10 at Staples, but it usually retails for about twice that price.
Thursday Night Poker
Thursday Night Poker has pleasing graphics, but it's strictly a simulation of poker at home. You don't get casino quality opponents or casino style play. For example... TNP has antes instead of blinds in hold 'em, and there's no option for a casino fee on the button. In fact there isn't a button. TNP is an amusement, but it's NOT a real poker simulation. It sells for $25.
Acespade Software
Acespade sells individual versions of hold 'em, seven-card stud, Omaha, and other popular casino poker variations with prices starting at $19.95 for standard versions, $37.95 for deluxe versions, and $79.95 for pro versions. The pro version offers more statistical analysis, advice, and an ability to create/modify opponent profiles. Unfortunately, Acespade has visuals that are better suited to organizational chart software than to a casino game. Everything is two dimensional and the software doesn't even bother to illustrate/animate casino chips; it just give you the amount in the pot. BORING!
The Showdown
Other competitors like Sozobon and Hoyle follow the mediocre leads of Acespade or Thursday Night Poker. They're either....
1. Poker like playing a spreadsheet... or 2. Poker like an arcade game.
Wilson Turbo series is the clear winner for professional or semi-professional players. If you just want to have fun (and save a few dollars), then consider Masque World Series of Poker.
Good luck!
Basil Nestor
The Unofficial Guide to Casino Gambling
at SmarterBet.com
(c) copyright 1999-2001 Basil Nestor
Any reprint or repost of material from this web site requires prior written approval.
Questions? Contact webmaster@smarterbet.com