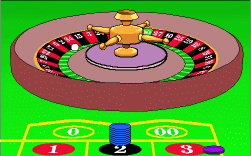 Computer Simulations vs.
The Real World
---
Q My brother is determined to use a roulette betting system that he recently purchased. I offered to test the system on my computer to see if it works, but he says that a computer simulation isnít the "real world." Heís going to Atlantic City this weekend, and Iím really concerned that heís going to lose a lot of money. What can I do?
A Tell him that betting can make results more expensive, but it doesn't make them more valid. A computer is the best place to test a gambling system. If he wonít listen, then here's another suggestion. I regularly do this myself, just as a reminder of what happens in the "real world."
I simply walk past the roulette tables in any large casino on a Friday or Saturday (when the place is busy). All I need is a quick stroll and a glance at the electronic displays that show results of previous spins. Somewhere on that floor there are always tables producing patterns that would destroy somebody's gambling system. It's all there... long strings of alternating red and black, or only black, only red, only high, only low, repeated single numbers, groups of numbers that repeat.
If your brother "takes the walk" heíll quickly see the real world results. It wonít cost him a dime.
But hereís the tricky part.
Some people are so eager to start betting, they doubt even the real world. Iíve seen countless gamblers delude themselves into thinking that predictable losses are a one-time anomaly. They unrealistically expect the next series of spins to produce more favorable results. Players in this mindset are under tremendous self-imposed psychological pressure to ignore the evidence and push ahead. Thatís why it's a good idea to take the walk with empty pockets.
So tell your brother to leave his money at home when he tests the system in the real world. If it works, then he can return next weekend and bet his bankroll. The casino will always be there.
Also, your brother should read my article... "Gambling Systems: Do They Work?" It debunks some of the most notorious betting systems (including the martingale). I also discuss a few systems/strategies that actually DO work. No voodoo. Just mathematically sound methods. Bro needs this info if heís going to spend time in Atlantic City.
Best of luck in helping him sort this out.
Basil Nestor
The Unofficial Guide to Casino Gambling
at SmarterBet.com
(c) copyright 1999-2001 Basil Nestor
Any reprint or repost of material from this web site requires prior written approval.
Questions? Contact webmaster@smarterbet.com