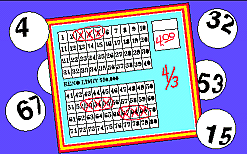 Gambling Systems:
Do They Work?
by Basil Nestor
---
Part 2: Gambling System Basics
All gambling systems, the good ones and the bad ones, are based on the premise that you should bet more (or bet something) when you are likely to win and bet less (or not at all) when you are likely to lose. Every gambling system contains a mechanism to supposedly tell you when/where the winning and losing will likely occur. Most systems adjust or move wagers to take advantage of this presumably special knowledge. Some systems also require the bettor to play the game a particular way.
The result SHOULD be a reduction or elimination of the playerís disadvantage against the house. Good gambling systems actually DO this. Bad systems are like bad medicine. They either have no effect or the effect is advantageous to the casino.
There ARE good systems. As I mentioned previously, theyíre usually called "strategies". Blackjack basic strategy is one example of a system that works. Other examples are blackjack card counting and video poker optimal strategy. In fact, most casino games (including craps, baccarat, and roulette) have an optimal strategy that is proven effective at reducing the casinoís edge. A good system/strategy can (in some games) shift the edge to the player.
That doesnít happen with bad systems. They donít accurately predict/affect the contest results, or they donít adjust/move wagers accordingly. Some systems fail on all accounts.
How do you tell the good from the bad? Itís easy with a bit of practice. Letís start with an infamous example.
Martingale
Itís the granddaddy of all the bogus systems. Some people swear by the martingale. Most people swear at it. Martingale is mostly used in situations when the payout is 1:1 and the odds are near 50/50. The gambler begins with a base bet, typically one unit. The bet is doubled after a loss. Doubling continues until a win. Then the gambler returns to a one unit bet. The practical effect is a net gain of one unit after every win. Losses have no net effect on the bankroll. Sounds great! Of course this assumes the final decision in the sequence is a win. Thatís a big assumption.
Hereís how it looks in a table...
| | | | |
| --- | --- | --- | --- |
| Bet #1 | Wager = 1 | Net If Win = 1 | Net If Loss = -1 |
| Bet #2 | Wager = 2 | Net If Win = 1 | Net If Loss = -3 |
| Bet #3 | Wager = 4 | Net If Win = 1 | Net If Loss = -7 |
| Bet #4 | Wager = 8 | Net If Win = 1 | Net If Loss = -15 |
| Bet #5 | Wager = 16 | Net If Win = 1 | Net If Loss = -31 |
| Bet #6 | Wager = 32 | Net If Win = 1 | Net If Loss = -63 |
| Bet #7 | Wager = 64 | Net If Win = 1 | Net If Loss = -127 |
Remember that the gambler is trying to win it ALL back plus one unit. So a loss at level 7 puts the gambler down 127 units. Imagine if the base unit were a $10 bet. Ouch!
But hey... The system only needs ONE win. Whatís the possibility of losing seven times in a row?
Itís 1 in 128 on a coin-flip-style 50/50 proposition. The true odds are WORSE when playing negative expectation casino games that pay 1:1 (roulette, baccarat, craps, blackjack). For example, the roulette odds for seven consecutive losses are about 1 in 121. Still pretty unlikely, right? Yes, but consider the actual wager. The gambler is risking 127 units against the casinoís 1 unit that seven consecutive losses WONíT occur. What a dumb bet!
The probability of seeing seven consecutive losses is GREATER than the probability of winning enough in the interim to cover those losses. Or put another way... The gambler will usually lose 127 units before winning 121. So the martingale is always a long-term loser. Itís unavoidable. Yet people continue to use the system? Why?
The biggest reason is that gamblers incorrectly believe the martingale is adjusting wagers UP as the probability of winning is increasing. They think that consecutive losses indicates that a win is "due". But guess what? The probability of winning ISNíT going up. Itís exactly the same from spin to spin.
Oops.
Return to part 1 OR Continue to part 3 of 4
(c) copyright 1999 Basil Nestor
Any reprint or repost of material from this web site requires prior written approval.
Questions? Contact webmaster@smarterbet.com