SmarterBet.com Online Bookstore
---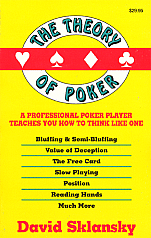 The Theory of Poker
by David Sklansky
Regular Price $29.95
Click for an Amazon.com discount!

Order via secure server and save!
One of the most important books about poker ever published. Subjects include bluffing, semi-bluffing, raising, slow-play, the value of position, psychology, deception, heads-up play, game theory, implied odds, the free card, and more. This is essential information for serious players. Every poker master in the world is familiar with Sklanky's work. His concepts have revolutionized the game.
The Theory of Poker by David Sklansky

---
Return to the bookstore main page.
(c) copyright 1999-2001 Basil Nestor
Any reprint or repost of material from this web site requires prior written approval.
Questions? Contact webmaster@smarterbet.com