SmarterBet.com Online Bookstore
---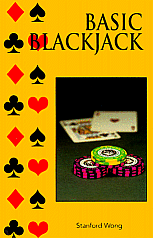 Basic Blackjack
by Stanford Wong
Regular Price $14.95
Click for an Amazon.com discount!

Order via secure server and save!
Stanford Wong is one of the world's foremost authorities on blackjack. Basic Blackjack provides detailed strategies for dozens of rule variations including Double Exposure, bonus payoffs, and games with jokers. Wong also discusses dealer tells, taking advantage of dealer errors, and mistakes players can avoid. This is an important book to have if you want to play top-quality blackjack.
Basic Blackjack by Stanford Wong

---
Return to the bookstore main page.
(c) copyright 1999-2001 Basil Nestor
Any reprint or repost of material from this web site requires prior written approval.
Questions? Contact webmaster@smarterbet.com