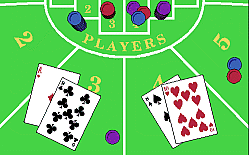 Baccarat's Best Bets
---
Q I have just started to play baccarat, and I was wondering if you have found any relationship between the old shoe and the new one regarding trends. When you start a new shoe do you pay any attention to what happened in the previous shoe? Do you have a tips for a beginner?
A First let me congratulate you on discovering one of the most enjoyable and equitable games offered in any casino. The house has an edge in baccarat, but it's a slim 1.24% for bets on player and 1.06% for bets on banker.
That's much more favorable than roulette (5.26%), 6/5 video poker (4.5%), most slot machines (5% to 10%), and blackjack sans basic strategy (2% to 5%). In fact, the only no-effort casino wager that surpasses baccarat is the craps odds bet (0%).
You can see why James Bond and I both love baccarat.
You asked for tips, so here are two that will save you money...
1. Avoid the bet on tie. It gives the casino an exorbitant advantage of about 14%.
2. Look for casinos that only charge 4% vig on the banker. That drops the edge on banker bets to 0.6%.
Re documenting the results of play... Sorry to say, but there is no known PROFITABLE method for counting cards at baccarat. The best research to date has developed counting systems that would reliably return about $10 per hour if you were a millionaire. Not too profitable. It may anecdotally seem otherwise, but previous wins/losses have no predictable affect on future results. So, it doesn't matter if you keep records within a shoe or across multiple shoes, the information is essentially useless (except to indicate if you have won or lost in the aggregate). An easier method is to simply count your chips.
One more important tip... If you're playing "big" baccarat in the pit, be aware that most casinos employ shills. These are usually comely women who are expensively dressed and playing alone. They attract punters to empty tables and then conveniently disappear when the seats fill. Shills don't affect the game (other than to stimulate testosterone production in male players), but their presence can occasionally cloud judgment.
For more info about baccarat, check out the Unofficial Guide to Casino Gambling in the SmarterBet.com online bookstore.
Basil Nestor
The Smarter Bet Guides
at SmarterBet.com
(c) copyright 1999-2001 Basil Nestor
Any reprint or repost of material from this web site requires prior written approval.
Questions? Contact webmaster@smarterbet.com